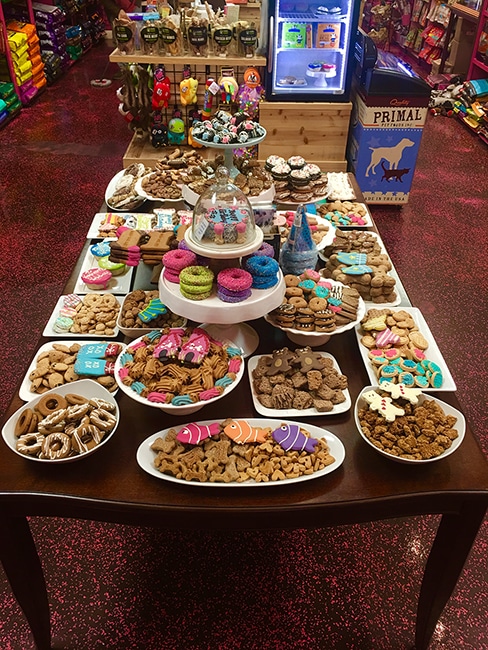 Gourmet Treats at Woof Gang Bakery & Grooming Las Vegas
Let Woof Gang Bakery & Grooming Las Vegas be part of the celebration with our gourmet treats! Our dog bakery Las Vegas specializes in fresh baked dog cakes and cookies, Woof Gang Bakery & Grooming Las Vegas also has our own private labels including treats, bones & chews and grooming products. Contact us today to place an order for our home baked birthday cake! Or book a grooming appointment before your pets special day so they can show up to the party freshly groomed in Woof Gang Bakery & Grooming Las Vegas style. At Woof Gang Bakery & Grooming Las Vegas,  we love our pets as much as you love yours, so we make sure to take special care when grooming & supplying products for your fur baby. Visit our pet bakery today!
What Our Customers
Are Saying
Very good service and advice
Ashley is amazing with our nervous Golden doodle. The whole staff is amazing and owner as well! They all truly care about pets. Our doodle trusted Ashley to groom him whereas he trusts no one else in Vegas to do so. This is the only place we will frequent from now on, they have our business as long as we live in Vegas!
Chuck Armstrong
2021-11-11
When a groomer dictates how your pet is to be groomed, move on!! They refused to listen to my request, and to make matters worse said take it or leave it. A little background, my dog gets groomed every 6-8 weeks. I spend a lot of $$ on taking good care of my dog. Time to find another groomer!! Not professional at all!!!
BEWARE OF THIS BUSINESS!!! I have been a long time customer of Woof Gang Bakery and up until now have had no issues, but with this recent experience, I am appalled and disgusted at the groomers and the owner. This location keeps cards on the animals that they groom to note any special requests or grooming notes. My 4 year old shih txu has sensitive skin and it has been noted several times to not use the clippers on his private parts. However, this time they ignored my requests and still used the clippers, causing him to break out in that area. Upon letting the owner know, she was very rude and didn't even apologize, I was calling to inform her of the mistake, but she assumed I was calling for a refund and became frustrated. She then went on to say that my dog was the problem and that I should find another groomer because my requests are too difficult and that none of the groomers want to groom him anymore. In my opinion this is the most unprofessional response you can give a customer who has given your business plenty of money. The dogs and their owners are what keep this business running and it seems as if the owner has lost sight of this and is more interested in the money. The only reason why this post has one star is because of their worker Richard. He is the best thing going for them! Take my advice and take your fur baby somewhere else! This business doesn't deserve the luxury or servicing pets!!
Nice people ,friendly , lots of nice treats for your dog,and wonderful grooming services too
Michael Hasenauer
2021-10-18
Very helpful, always!
Woof Gang is small and cozy, and the staff genuinely care about giving your pet the care and attention that they need!
If you have any other questions, please